On this edition of The HfS Podcast As-a-Service, CEO and Chief Analyst Phil Fersht discusses the true impact of automation.
Our Buyers Summit in San Francisco was a huge success, with great discussions and a manifesto for the industry. Join us in NY in Sept.
Adding intelligence to business process automation through machine learning.
Everyone reads HfS -- it's informative, refreshing and engaging.

Blog Comment, An HfS Reader

HFS deserves to be out in front – their research is a breath of much needed fresh air!

Blog Comment, An HfS Reader

Keep up the good work and keep making the analysts out there proud of what you can achieve if you keep doing what your folks are doing every day!

Legacy Analyst, An HfS Reader

The firm's exceptionally wide freemium base means that it is delivering highly valuable services to a wide number of users.

Duncan Chapple, Influencer Relations

Great job on being the Uber for the Analyst Industry!

Blog Comment, An HfS Reader

I strongly believe that the analyst industry needs a disruption and happy to see that you guys are striving for that.

Analyst Relations Manager, An HfS Reader

It's the way you engage with your network that make HfS so powerful and influential in the market.

Blog Comment, An HfS Reader
BLOG
This rebellion against the establishment can be clearly mirrored in our enterprises, where similar issues of disenfranchisement are rapidly permeating with 30% of rote services jobs likely to be eliminated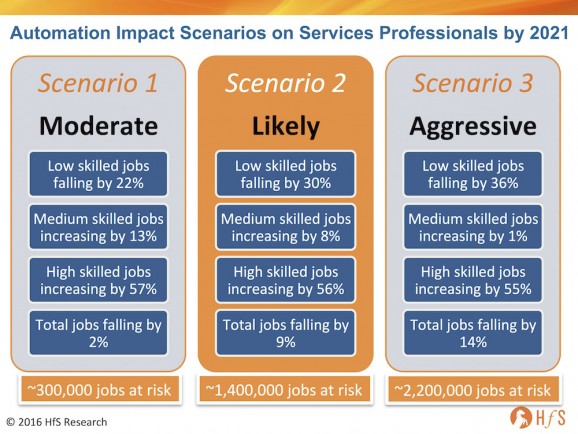 Low skilled, routine jobs drop 30% as many of these roles get phased out over the next 5 years, resulting in a net loss in the global services industry of 9%, totaling 1.4 million jobs by 2021
These two firms need to be slammed together with an urgency and focus not yet seen in our industry