Upcoming Events
The Future State of Outsourcing - Revealed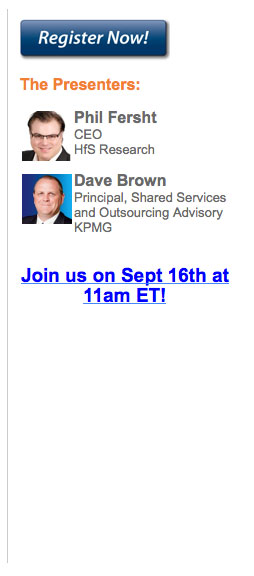 The industry has spoken....in droves. On September 16th, HfS and KPMG will reveal where the industry is heading and breakdown the findings from the seminal State of Outsourcing Study, which this year canvassed the views and dynamics of 1100 enterprise buyers, advisors, and providers of global services.
Tired of the racking and stacking of historical deal data? Well... your pain is finally over as we look to visualize the future, as opposed to regurgitating the past, as Dave Brown and Phil Fersht dissect the real-time behavioral insight that will give us the true picture on where the outsourcing industry is heading in the near and long-term future.
Please join Dave Brown, KPMG's Global Lead for Shared Services and Outsourcing Advisory and Phil Fersht, HfS' Chief Executive Officer, for an intimate conversation with our global web-audience, where we will address the following topics:
The rate of adoption of global operating models;
The direction enterprises are taking with shared services, GBS and outsourcing;
The role of "as-a-Service" cloud delivery models and the democratization of the outsourcing decision;
The evolution of Digital Technologies and the anticipated impact on global sourcing models;
The state of sourcing talent and how smart buyers, providers and advisors need to address the shortfalls.
Upcoming Analyst Appearances